Feenteichbrücke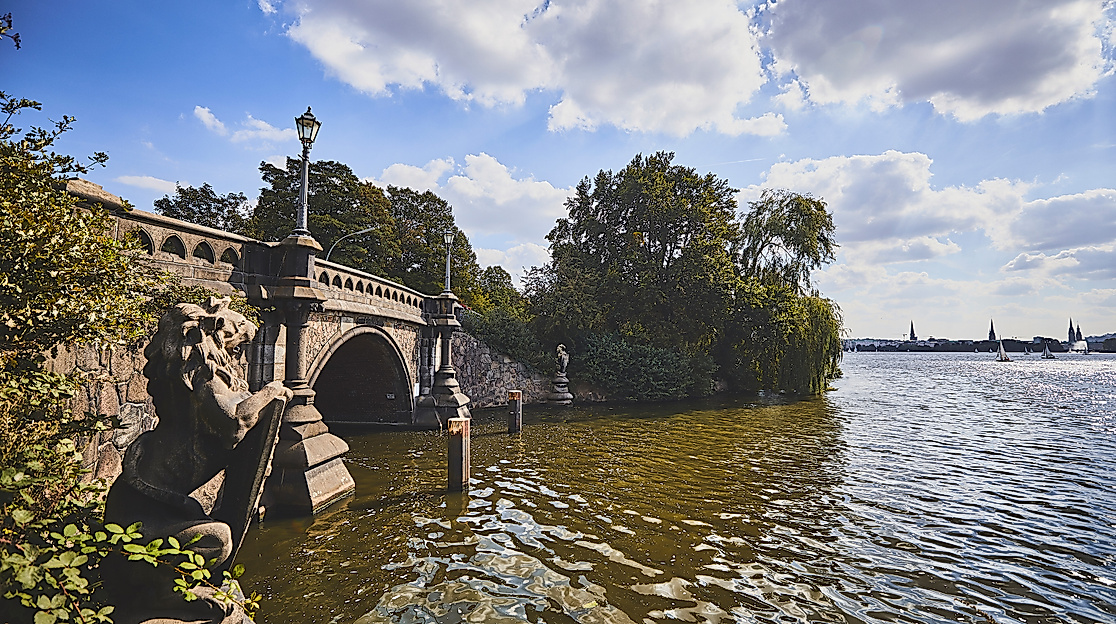 The Feenteich Bridge in Hamburg is an impressive brick arch with a span of eight metres. Built in 1884, the bridge marks the transition from the Feenteich to the Außenalster.
Erected: 1884
Location Uhlenhorst, near Imam-Ali mosque
Special features: A jogger every three minutes
The Hansa boathouse is located by Schöne Aussicht, just behind the Feenteichbrücke, where the water-lily covered Feenteich becomes the Outer Alster. The stone lion figures, the granite parapet and the Hamburg coat of arms were given to the bridge – a brick arch with a span of eight metres – during the construction of two old harbour bridges in 1884. Only a plain wooden bridge had stood there previously.
From the water, says Melanie Zimmer, many things look very different. Many landscapes, the lush gardens of the villa owners at Hamburg's top addresses, the beautiful views, and even the bridge itself, can only be truly discovered this way: at your own pace, in a boat.
To be able to row in Hamburg is a privilege, she believes – so much water, so much freedom. Being able to choose whether to brace oneself on the Outer Alster against the wind, on the Elbe through the port, rowing up the Alster canal to the Ohlsdorfer watergate, or Sunday for a coffee with the coxed four turning into the Osterbek canal, with a short detour in the Stadtparksee to Planetarium, and on the way back land at one or another small café with a pier.
For nine years, Melanie Zimmer has been rowing with the 'Ruder-Gesellschaft Hansa' founded in 1872, one of the oldest rowing clubs in Germany and the only ones on the Outer Alster lake that accepts women, even if only since 1978. The oldest trophy in the display case came to the boathouse on the Uhlenhorst nearly a century earlier. Today, the rowing society owes its greatest successes to the women amongst its 650 members: a world champion in the quadruple sculls, Maren Derlien; the Hamburg athlete of the year, Helke Nieschlag, and two women's eights in der German Rowing League.
Text: Constanze Kindel