Stage Theater Neue Flora
Hamburg's largest musical theatre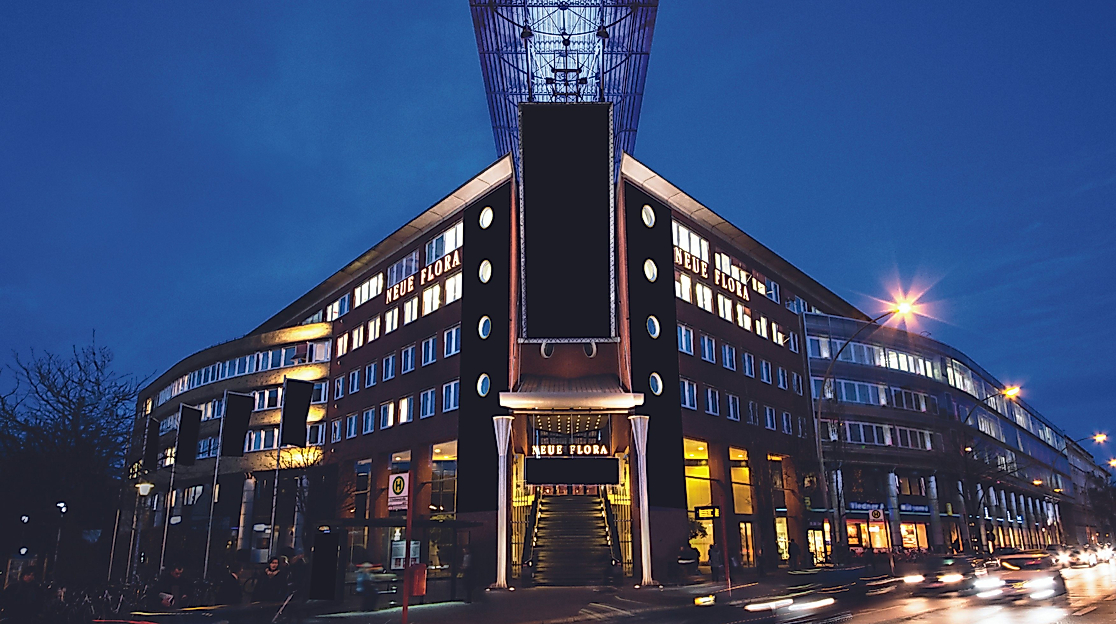 The "Neue Flora" theatre built in the style of the 1920s is located in the direct vicinity of the Holstenbrauerei and is now an important landmark in Hamburg.
The Phantom of the Opera", one of Germany's most popular musicals, found its first home here from 1990 to 2001 and delighted more than seven million spectators. Further successful musical productions such as "Tanz der Vampire", "Dirty Dancing" and "Tarzan" followed before the Phantom returned to the stage again in 2013. Until recently, the magical magic of Arabian nights blew through the picturesque theatre hall with the award-winning Disney production ALADDIN, wich was replaced by Cirque du Soleil PARAMOUR. Subsequently, the new production of WICKED - Das Musical was staged at the Stage Theater Neue Flora. In 2022, the feel-good classic MAMMA MIA! returned back again to Hamburg and this special theatre. With Disney's HERCULES, a new musical highlight will thrill people in March 2024, which will celebrate a world premiere in Hamburg.
Restaurant
Before or after a visit to the musical, guests can enjoy the international delicacies of the adjacent restaurant "Cardoza's" or enjoy ice-cold drinks and cocktails at the Stage Club.
Incredibly large
With just under 2,000 seats, the Neue Flora in Hamburg is one of the largest theaters in Germany and was built in 1989/90. The seats are arranged as in a classic amphitheater and offer an unrestricted view of the stage from all seats. This covers an area of 815 m², divided into the side stage, back stage and main stage. The height from the lower stage to the roof is 33 meters.
Hamburg CARD Discount
Tickets
With Hamburg CARD, Hamburg CARD Local, Hamburg CARD Premium or Hamburg CARD Premium Plus
Book tickets with Hamburg Card discount (up to 10% discount subject to availability) directly here.
Discount on the normal or full price subject to availability; valid for in-house and in-house productions with the exception of premieres, guest performances, special events, Christmas and New Year's Eve. Ticket, system and advance booking fees are not discountable.