Elbphilharmonie Concert Cinema
Live broadcasts and concert recordings from the Elbphilharmonie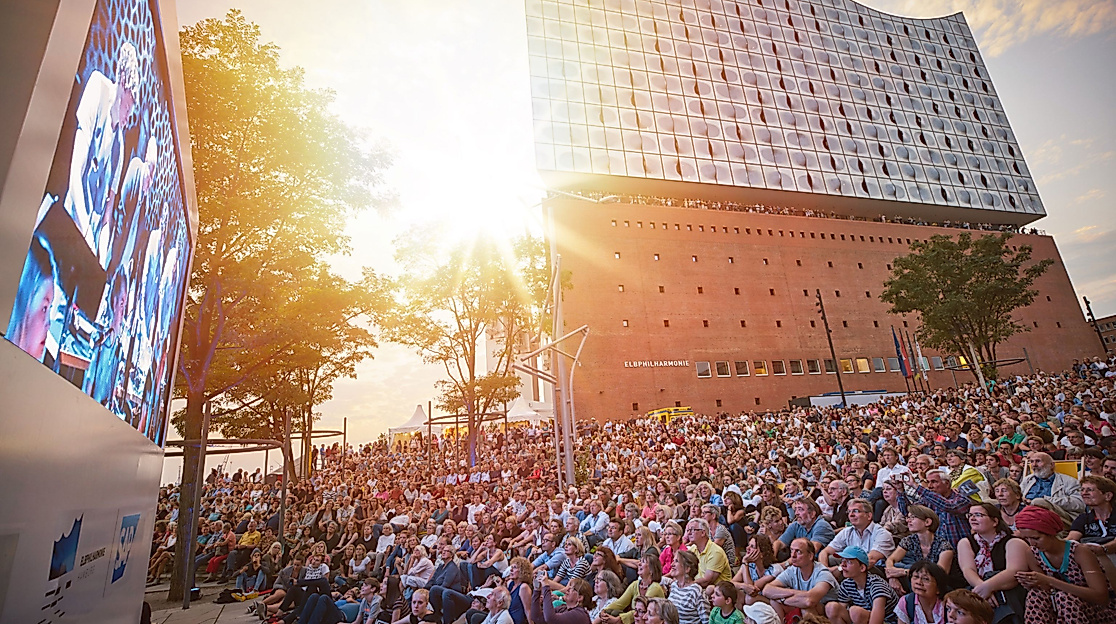 This summer, the "Elbphilharmonie Konzertkino", the concert cinema that opened for the first time in August 2017, once again attracted flâneurs and music enthusiasts alike on the plaza in front of the Elbphilharmonie.
Experience live streams as well as concert recordings from the Great Hall of the Elbphilharmonie on a large LED screen - the "Cube" of the Elbphilharmonie's Principal Sponsor SAP offers the best picture and sound quality and makes you forget that you are not even there. A colourful music programme of classical, pop and jazz music awaits you on 18 evenings. Once again, the Spectacle takes place on the forecourt of the Elbphilharmonie Concert Hall. In contrast to previous years, this year it is necessary to book tickets in advance to comply with distance regulations and limited visitor numbers. You can choose between artificial grass areas for two to a maximum of four people and deck chairs and beach chairs for two people. Tickets are available on the website of the Elbphilharmonie.
The on-site catering facilities usually open two hours before the broadcasts, which start at 8 pm. About half an hour before, the respective concerts are presented live on site. In addition, on three weekend afternoons there is a children's programme from 4 pm.