Living landmarks return to Hamburg's Alster
It comes around every year: the calendar shows the first day of spring. But the process isn't complete until the Alster swans return from their winter quarters. Spring doesn't 't really start in Hamburg until the banks of its canals and waterways are alive with the city's living historical landmarks. From now until November, the proud creatures, tended by the municipal Swan Father, will once more glide across Hamburg's waters – and raise fluffy broods in their nesting places.
Alsterschwäne
Alsterschwäne
Fluttering, honking and hissing between the four blue boats. Some 120 long, white necks stretch up from the water towards the sun, the light is refracted by the gentle waves, the skies are clear above Hamburg's Außenalster. It's the perfect backdrop for the first real day of spring – because even if the calendar got there first this time:traditionally, spring doesn't arrive in Hamburg until the Alster swans have left their winter quarters in the Eppendorfer Mühlenteich. And that's today. After more than four months in the park with the frost-proof pond, the city's living landmarks are being escorted by to freedom by Swan Father Olaf Nieß and his assistants.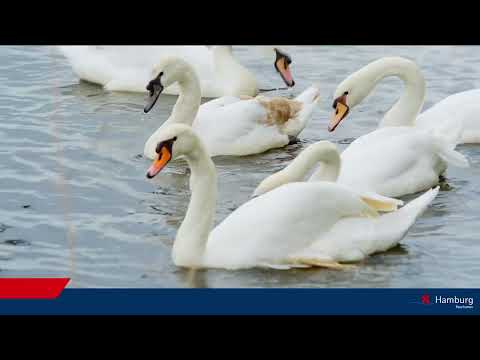 "They are still seen today as a symbol of the Hanseatic city's freedom and economic independence." — Olaf Nieß, "Swan Father"
"We've kept swans all the way back to the 11th century," explained Olaf Nieß, when we visited him at his workplace a few weeks ago. "At one time, only kings and princes kept swans, so this meant that Hamburg was placing itself on an equal footing with them. "They're still seen today as a symbol of the Hanseatic city's freedom and economic independence". Even beyond German borders: from time to time, individual swans are presented to cities in Germany and abroad as official gifts. Hamburg, in other words, is very fond of its swans. That's why the municipal office of District Gamekeeper, affectionately known as the "Swan Father", has been in existence since 1674. It is thought to be the oldest permanent municipal post in Hamburg. Olaf Nieß is the second generation of his family in the job. He originally trained for business, but after a second vocational training programme lasting six and a half years he took over from his father Harald in 1996.
Schwanenvater Olaf Nieß
Alsterschwäne
Each pair of swans has some four to six chicks every season
"We can run across to the Alster in my boat," Olaf Nieß suggests. We sail off straight away, accompanied by working dog Caja, passing smart villas, friendly local residents and abandoned swans' nests, inconspicuous brown piles that blend almost invisibly into the shrubs on the embankment. When released in the spring, the monogamous couples return to their old nesting places to start breeding. "After mating, they run around everywhere, collecting branches and repairing their old nests," explains Swan Father Nieß. Each pair of swans has some four to six chicks every season. And to make sure the offspring don't disrupt the following year's round of reproduction, after spending their first winter in cosy shelter they move into bachelor quarters in front of Hamburg's Town Hall. They find their own partners for life there and, with a little luck, head for the nests themselves in the following summer.
Swans are totally peaceful and don't cause any trouble at all
The swans around the Jungfernstieg are the perfect postcard motif for locals and tourists. What do you have watch out for when taking photographs? "Problems only arise if a swan has cygnets and the young are being really seriously pestered. Or if it has been hit by a paddle about ten times that day. The eleventh time, it may well jump into the canoe and put a few things straight. Basically, though, swans are totally peaceful and don't cause any trouble at all". Nieß reckons he is probably the only citizen of Hamburg ever to have been seriously injured by a swan. That was twenty years ago, when he wanted to free two of them from a waterhole in the Allermöher See at 15 degrees below freezing. "I saw my glasses flying away, then there I was lying in icy water, fully clothed, and realised I was being beaten around the head by wings. I ended up with a pretty bad cut, but I pulled the swans out with me".
The ABC of Hamburg's swans

What site can you particularly recommend to people who want to watch the swans?
"The area at the Rathausmarkt is naturally something special, because it has such close links to the historical significance for the city. Otherwise, there are nice spots at the Außenalter as well. However, non-locals have little chance of finding swans on the canals".
Is it all right to feed Hamburg's Alster swans?
"If someone comes by with the kids and takes along one or two slices of toast, that's absolutely okay. But when people think they have to chuck bucketloads of flatbread into the water, that's not feeding, it's environmental pollution and utter stupidity. Generally speaking, swans are perfectly capable of finding their own food".
It's said in Hamburg to this day that it's a criminal offence to insult the swans. What would actually happen if you went over the top and shouted at them?
"Until the 16th century, penalties for violating the Swan Regulations ranged from a three-taler fine to three days' imprisonment. We don't put people in jail for insulting them these days. Although the law has never been officially repealed, it isn't enforced".
"Fortunately, the people of Hamburg are very, very closely attached to their swans" — Olaf Nieß, "Swan Father"
Wildlife rarely sticks to working hours
In dealing with rescue manoeuvres as described above, environmental pollution or animal cruelty, one-man-band Olaf Nieß needs to have his eyes everywhere. "Fortunately, the people of Hamburg are very, very closely attached to their swans. The people have really taken them to their hearts and will tell us if there's an incident anywhere". The tall 50-year-old with the Hamburg accent is also in constant radio contact with the river police. But although on the face of it everything revolves around the Alster swans, as District Gamekeeper Olaf Nieß is responsible for the well-being of all Hamburg wildlife, including geese on the motorway, deer at the port, seals in the Elbe, and urban wild pigs. It's full-time job, which he describes as we and the boat turn back into the Eppendorfer Mühlenteich: "My personal life is seriously restricted, because of course wildlife rarely sticks to working hours. And the actual care mostly doesn't start until after the rescue".
Nieß wants to stay in the job for at least another ten years before he starts looking for a successor. Then we'll see whether the unique title will stay in the family. Olaf Nieß's son is now fifteen years old, and is not uninterested in his Dad's job. "Of course I would be pleased if he followed in my footsteps," says the not-only-Swan Father. "But he has to decide for himself whether that's the way he wants to go". For the moment, Hamburg is looking forward to another chapter in its very own swan fairy-tale – and keeping a close watch on its living landmarks. Until Olaf Nieß catches them again in November and ships both swans and cygnets off to safe winter quarters.
Read more